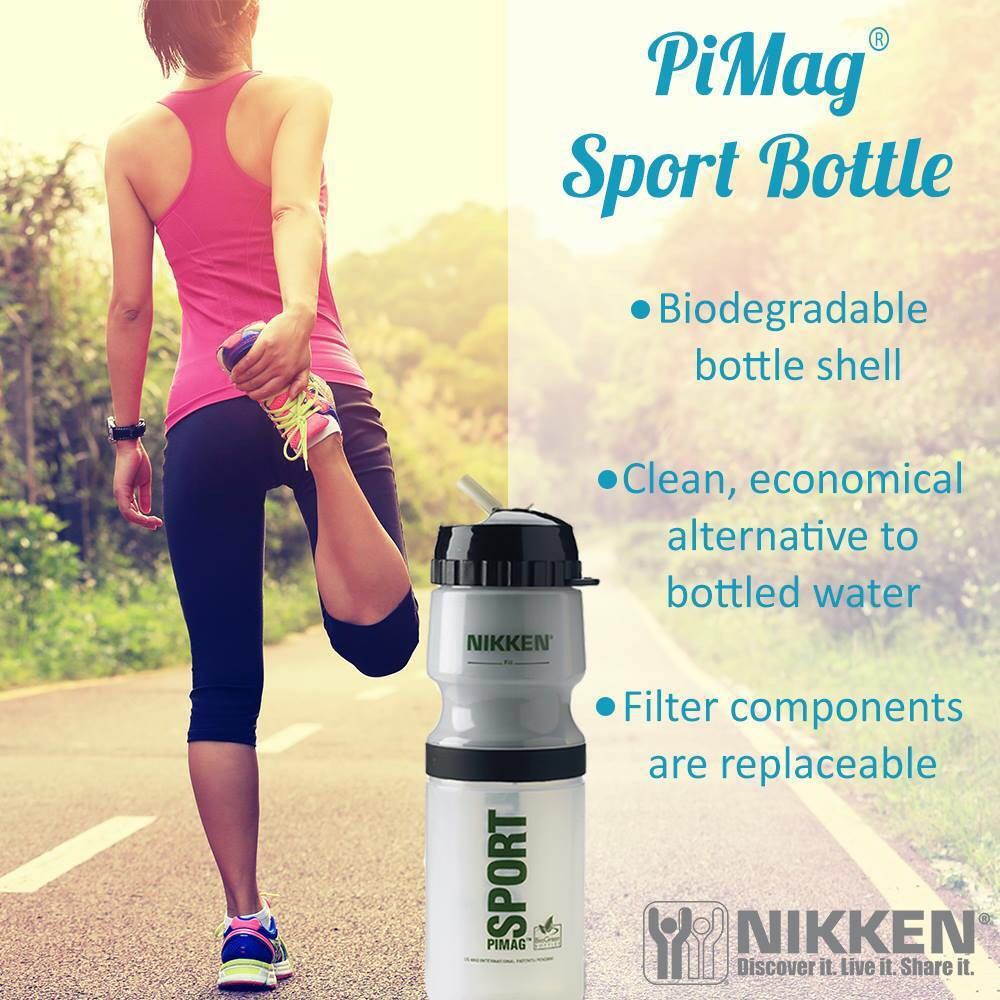 The PiMag Sport Bottle® features a unique, patented (U.S. Patent #8,439,205) microfilter that meets or exceeds internationally recognized filtration standards. Proprietary Nikken PiMag® Water Technology combines a magnetic field that helps to reduce sediment agglomeration with features that add natural minerals and adjust pH value.
The PiMag Sport Bottle is environmentally responsible in many ways: the biodegradable bottle shell (containing no BPA or other potentially harmful compounds) eventually breaks down into natural soil nutrients.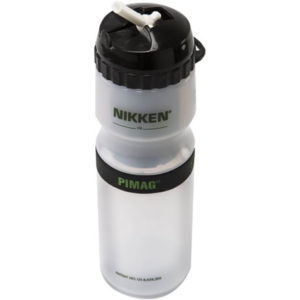 Filter components are replaceable, to extend the life of the bottle. The PiMag® Sport Bottle is the clean, economical and intelligent alternative to commercially bottled water.
PiMag® Water Technology also possesses advantages over commercially bottled water. An immediately obvious one is cost: the purchase and operation of a PiMag® product, which filters tap water, is an order of magnitude less expensive than the ongoing cost of bottled water — which itself is often nothing more than treated tap water.
Avoids harming the environment
The environmental cost of bottled water is equally formidable. A mountain of discarded, non-biodegradable containers is a potential ecological disaster.
These plastics may pose a health risk in more ways than their harm to the environment. Certain chemicals in the plastic containers are known to leach into the water these containers hold, especially if the bottles are stored or on shelves for any appreciable length of time. On consuming this water, these chemicals may be absorbed and retained in body tissue. Owning and using a PiMag® water product avoids the potential for harm inherent in the regular consumption of bottled water.
Water is vital to supporting every bodily function: digestion and nutrient absorption, proper circulation, removal of toxins and more. Ensuring an adequate supply of good water is thus essential.
The PiMag Sport Bottle ® is the clean, economical and intelligent alternative to commercially bottled water.
Order Now

Price $68.00
FREE SHIPPING
ONLY 11 LEFT IN STOCK
ORDER NOW